What once originated with typewriters, has now invaded the very essence of communication like wildfire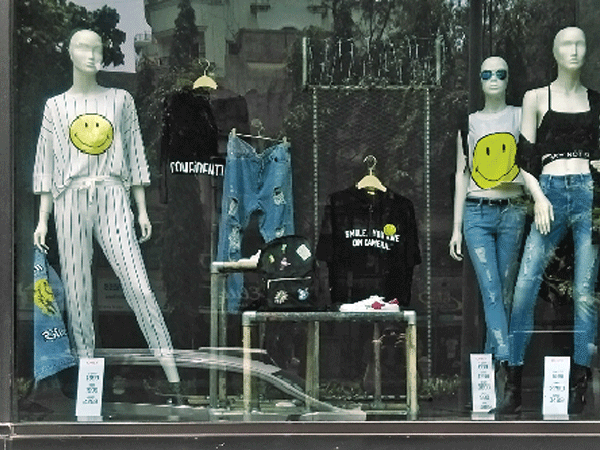 Smiley has become an integral part of digital conversation in our daily life. Originated with typewriters, it has invaded into computer and mobile communications like wildfire.
However, the origin of smiley is not clear and it seems that it first appeared during the early 1960s. In 1963 there was an American children's TV programme called The Funny Company, which featured a crude smiley face as a kids' club logo. At the same time, Harvey Ball – a commercial artist in Worcester, Massachusetts – designed a simple Smiley for a local company, State Mutual Life Assurance.
The classic Smiley arrived in the early 1970s. Within a perfect yellow circle, there was the simplest, most childlike depiction of a happy face: two vertical, oval eyes and a large, upturned semi-circular mouth. This is when Smiley was invented by Franklin Loufrani.
In September 1970 two brothers based in Philadelphia, Bernard and Murray Spain, came up with the classic Smiley design to sell novelties. Adding the words "have a nice day", the Spains shifted at least 50 million smiley badges in 1972.
From early-70s fad to late-80s, smilieys change like a constantly mutating virus. Written during 1985 and published in 1986, Watchmen used the Smiley as a visual metaphor for a narrative that examines guilt, failure, megalomania and compromise with a corrupt power structure.
In 1997 Nicolas Loufrani created the first 3D Smiley and starts exploring different creative variations of it, which made its way on the screen of a cell phone for the first time in that year after licensed by The Smiley Company to Alcatel. Loufrani remembers in 1997, how he noticed the world was in the midst of a technological revolution and that people were using expressive emotions made from punctuation marks for text messaging and emails. Hundreds of these had been created as an art form but only 🙂 and 🙁 were really understandable and being used. "I started experimenting with my father's Smiley to create thousands of icons that corresponded to these pre-existing emoticons. I knew that I was onto something big, so I registered all these icons as copyrights and then launched a new brand SmileyWorld, that expressed thousands of emotions and which could also be applied to a variety of products. In the 20 years since then, the Smileys that I created have been featured on tens of thousands of products, which have been produced by more than 800 licensees and generated over $1.5 billion in retail sales. This unique invention of my Smileys has gone on to influence pictorial language and the way we communicate and express ourselves today and I am really proud of this," Loufrani said.
He recalls starting out in the luxury goods business, playing a key part in the transformation of Ozwald Boateng from a market trader on Portobello Road to becoming an internationally renowned Saville Row tailor. "In 1996 my father Franklin finally persuaded me to join Smiley and try to revolutionise it from its very traditional 'nuts and bolts' consumer merchandising licensing model. It was personally a very difficult career move to leave the luxury goods industry, which was my passion, but I knew that I could use my knowledge of trend, cutting edge design and the fast evolving world of technology to revolutionise Smiley forever," he says. By 1999, Nicolas created 471 smileys in categories such as emotions, weather, nations, flags, parodies, sports etc.
Also in 1999, Shigetaka Kurita of NTT Docamo created his emojis. However, the original designs bare little resemblance to the modern emoji phenomenon, which was inspired by smileys and the work of Loufrani, who launched The Official Smiley Dictionary in 2001, which announces "The birth of a universal language". The Dictionary contains 393 smileys with categories such as animals, colours, countries, celebrations, flags, food, fun, occupations, moods, celebrities, planets and moods. The Smiley Dictionary also held an extensive directory of 640 ascii emotions.
"It was my strategy to start looking into creating collaborations on the catwalk with some of the world's leading couture houses and upscale fashion designers to keep Smiley in the spotlight of the leading buyers, press and celebrities. This strategy has really paid off and the trickle down has resulted in us having today collections accessible to the mass market through some of the high street's most popular multiple retail chains and at the same time collections in the world's leading boutiques, department stores and on the catwalks all over the world," he recalls.
In 2003, The Smiley Dictionary was renamed SmileyWorld and contained 887 smileys including new categories such as celebration, celebrities, clothes, fancy, flags, flowers, food, in action, instruments, mood expressions, mood hands, nations, nature, numbers, objects, occupations, religion, science, signs, sports, transportation, weather, zodiac. The Dictionary is published for the first time as a book and the Smiley is licensed to leading phone manufacturers Motorola and Nokia.
"We are a licensing success story because we have a completely unique brand message, which is that 'we make the world a happier place" and this is the starting point for everything we do as a business. We also have an enviable brand positioning that places us at the epicentre of three of the most important consumer trends in popular culture today; happiness, music and Smileys. These provide our partners with unique opportunities to leverage our authentic brand message, when they partner with Smiley," said Loufrani.
Apple launched its first iPhone in 2007 and emoji icons were available only to Japanese users. Emoji is a Japanese word for pictogram and reproduce the concept of icons sorted by categories and have a set of emotions inspired by smileys but with a very different art direction.
According to him the Smiley Company prides itself on co-creating with partners, to ensure all leverage not just Smiley's brand equity. "But also collaborative design and commercial expertise to ensure we create best-selling collections, driven by market insight and that are supported by marketing best practice. We want our partners to know that when they work with Smiley, it's about entering into successful long-term partnerships, that will grow over the course of time," said Loufrani.
From 2010 onwards, some emoji character sets were incorporated into Unicode, a standard system for indexing characters, which has allowed them to be used outside Japan and to be standardised across different operating systems.
"The team at Smiley continues to be a key component in driving the business's growth globally. We have a dedicated team of 40 people and specialist brand teams coming from licensee specific industries, this allows the company to understand the needs of each and every partner and offer them professional advice and guidance," Loufrani explains.
Today there are 1088 emoji, used by billions of people everyday thanks to Unicode. Emoji are distinct from the original Smileys but the explosion has fulfilled Nicolas Loufrani's vision to create a digital universal language, understood by everyone.
"Smiley also adopts a global outlook but takes a local approach, with national sales teams speaking a wide range of languages we can guide partners towards the best products for them and their markets in order to drive more sales," Loufrani said.
The Smiley brand is now active in over 13 industries, like fashion, food, toys and publishing. The Smiley Company works with some of the world's largest retailers and most iconic brands to spread fun and happiness through creative products and engaging marketing activities. With sales of $265 million in 2017, Smiley has become part of the top 100 Global Licensors edition.
"We operate across 13 product categories in total but there are limitless opportunities when partnering with Smiley. I wouldn't rule out any category as long as it was related to spreading our message of happiness and positivity and a positive lifestyle. Our major product categories are; Fashion, footwear and accessories, back to school, gifting, greeting cards, homewares, stationery, digital, promotions, publishing and Toys," Loufrani says.
Talking on his plans for India, the company said, "India is definitely key market and Dream Theatre are very focussed on making Smiley a comprehensive and very successful licensing proposition. In fact the brand is very relevant in India with a 40 per cent share of Smiley's fans on social media and an already active licensing program with Lifestyle stores and a partnership with Archies covering a whole host of gifts and novelties. We are now adding new categories and have product launches in bags, loungewear, toys, back to school and a major promotions with a prestigious FMCG company. From a strategy perspective, Fashion and Apparel will be the core proposition in India as well, where we will collaborate with top designers, brands, and retailers for a greater apparel portfolio which will offer Smiley fans more options to choose from designer collections to mass market. In addition, we will have fashion accessories, homeware, foods, toys and games, retail activations roll out, for which we are currently in advanced discussions. In the next 3 years we aim to become Rs 150 crore portfolio at retail."